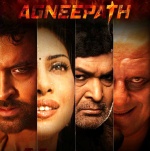 Agneepath - review
Agneepath (2012) is one of the most awaited movie of this year. The expectations from this movie is higher as there is many big faces in the movie.
Agneepath is the remake of the 1990 Bollywood classic of the same title. The original was directed by Mukul S. Anand and had Amitabh Bachchan in the iconic role of Vijay Deenanath Chauhan. The remake is directed by debutant Karan Malhotra, a former assistant of Karan Johar. Hrithik Roshan is essaying the role of Vijay. Priyanka Chopra is paired opposite Hrithik in the new Agneepath. Sanjay Dutt is playing Kancha Cheena, the iconic villain played by Danny Denzongpa in the original. Rishi Kapoor plays a newly added baddie role in the new version character of Rauf Lala who
trades in the flesh
market and drugs. The character played by Mithun Chakraborty in the original has been totally done away in the remake. Zarina Wahab and Om Puri play supporting roles in the film. Agneepath is the story started from a village called
Mandwa, the story
soon moves to Mumbai.
Where vijay works for rauf lala. Vijay Deenanath Chauhan seeks revenge against Kancha Cheena for his father's death. In the process, Vijay with the help of rauf lala,has risen into a powerful don. How he seeks his revenge, the film is all about. The original Agneepath was produced by Yash Johar. The new version is produced by his son Karan Johar under the banner of Dharma Productions.
Agneepath is skillfully
executed by Karan
Malhotra. He
demonstrates a solid
eye for detail in scene
construction and tells
the story with
remarkable gusto and
conviction. The dialogues in the film is good but it could have been better as it has a good plot for it. The music is disappointing except chikni chameli which makes everyone to dance.
Scirpt have been very well changed. The director had sured everytype of audiences to get entertained. The movie is Full of emotions and violence. The audiences may feel lack of lighter moments in the film. The cinematography is good. The length of the film is longer which could have been shortned.
Performance wise everyone had given their best.
Hrithik roshan had done one of the best role. His expression, his eyes, his body language totally matched to his role. Acting of hrithik is superb.
Priyanka chopra had a small role but she is very much electriying in that role. In Emotions scence she had performed very well.
Rishi kapoor as villian,will win the hearts of millions. Everyone will be suprised with his new look.
Sanjay dutt is mind blowing. His look makes him more teriffc
.
After the flop of players and some other small films this year, industry desperately needed a big hit, which i think agneepath is made for it.
It's a must watch movie.
RATING - 4/5
JOIN US ON TWITTER
572