Players Movie Review by piyush jain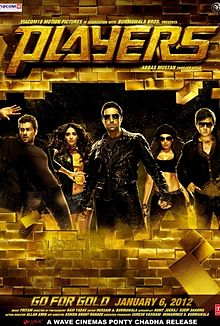 The first bollywood movie of this year players released on 6th jan.
The expectations from the movie was high and this movie may be the comeback for all actors who involved in a movie after delievring continous flops.
Players is a remake of hollywood blockbuster The italian job (2003) which also happens to be a remake of a 1969 british book office hit. It's an action thriller movie but unfortunately it misses this in many points.
The plot revolves around a gold burglary contrived by charlie (Abhishek bachchan, master mind) and victor dada ( vinod khanna) for which the duo enlists a team of five experts, masters in their respectivie fields. Bipasha basu ( AuTOmobile expert), bobby deol (magician), Neil nitin mukesh ( Hacker), omi vaidya (make up artist ) and sikandar kher (explosive expert ).
However the film takes an unexpected turn when one of the player turns out to be a traitor.
The first half is more better than second half. Funniest moments by omi vaidha and johny lever was outstanding. Train sequence in the movie was awesome. The second half becomes boring and the length of the movie could have shortened. Background score was weak. The film music is uninspiring, flat and borring and dialogues and their delievery must have been better as Don 2 had best dialogues and their delievry . Some scences from first half looked unimportant, creating obstacle for the movie to coming on point. The twists is predictable as it is a slow paced story line. Cinematography was outstanding.
The movie lacks good performance which the actors have the potential to do that.
Abhishek bachchan is convincing but he could have a better.
Sonam kapoor is the weakest performer of the movie apart from having a lead role. She changes her costumes and her hairstyle more freqently than her expressions.
Bobby deol and sikander kher had no much screen presence.
Hot and sizzling bipashu basu had done better in terms of acting and looking stunning in bikni.
Neil nitin mukesh was the real performer of the movie. He was very much involved in his role.
Omi vaidya and johhny lever tried to save the film from their laughter and they succeded.
Vinod khanna expressions was worst.
Aftab had a cameo role.
So the movie is not so boring but it's not interesting too.
Rating - 2.5 out of 5.
JOIN US ON TWITTER
TOTAL VISITS - 456